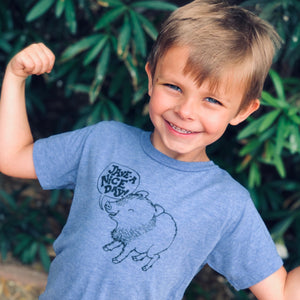 Jave-a Nice Day Kid & Toddler Tee by Joe Quarnberg
This cute Javelina Tee for kids is designed by local artist Joe Quarnberg. Hand screen-printed here in Tucson. Available in sizes S, M or L and toddler sizes in heather blue.
As a born Tucsonan, Joe grew up drawing pictures of all of their favorite adventurers and making toy weapons with what woodworking tools they had. In addition to taking drawing classes at the then local comic shop Capt. Spiffy's Superhero Emporium, these influences led Joe to focus on Sculpture and Illustration while seeking his BFA at the University of Arizona. Now employed in the metalworking trade, Joe occasionally still does illustration, calling it his "secret lil' baby".