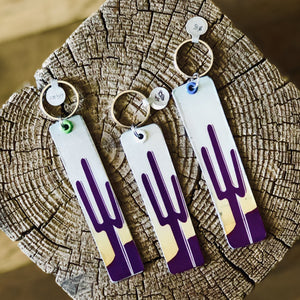 License Plate Saguaro Key Rings by the Lost Highway Sign Company
Reclaimed AZ license plate, transformed into unique key rings right here in Tucson by Levi of the Lost Highway Sign Company! A perfect gift or souvenir, the iconic saguaro imagery leaves no ambiguity where they came from.
The Lost Highway Sign Company was founded by Tucson artist Levi Koenen in 2008, and has been producing fun and unique gifts ever since. Levi uses mainly automotive materials in the process of building his artwork, from lamps made of reclaimed car parts, to keychains and signs created using reclaimed license plates. Always pushing himself to make something new, he enjoys welding, fabricating and producing one-of-a-kind pieces.