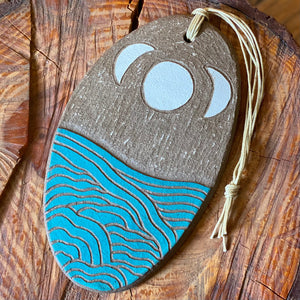 Ocean Waves Sgraffito Ceramic Wall-Hanging by Spring + Vine
This beautiful ceramic artwork is the perfect thing to hang wherever a small taste of the ocean waves may be required. Handmade from recycled clay by local artist Spring + Vine in her home studio!
Ceramic measures approx. 4"x6.5"
String measures approx. 5"
Ashley Ambrosio is the creative hands and heart behind Spring + Vine; maker of handmade soap and functional pottery inspired by the beauty of the Sonoran Desert. She offers backyard workshops for beginners and like-minded folks who are interested in learning about the techniques of clay hand-building, and are looking for a creative experience and unique way to connect with others in the community.