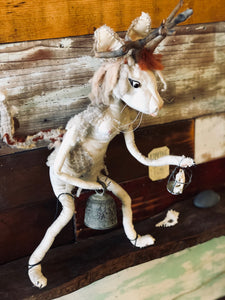 Roaming Spirit- Vegan Taxidermy by Sharon Thwing
Made by artist Sharon Thwing from reclaimed and found materials. Completely one of a kind, original, and handmade.

Local pickup only, not available to ship.
Sharon's ability to transform scraps into fantastical creatures waiting to tell their story to you is unbelievable. Fairy tale creatures for people who are also a little lost, found, and forgotten. Her pieces will leave you enchanted by their magical world of wit and whimsy. Each has a life of its own, and you will find yourself forming interactive relationships with these friends over time.