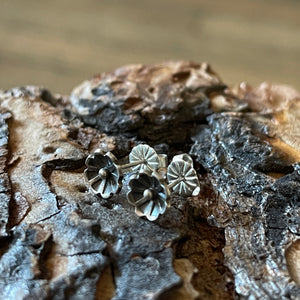 Silver Flower Studs by Honeycomb Organics
Dainty enough for everyday wear, but that doesn't mean there's a sacrifice on style. Handmade from sterling silver by Theo Sheffler of Honeycomb Organics here in Tucson!
Studs measure 1/4".
Theo Sheffler is a silversmith and lapidarist in Tucson, AZ, and founder of Honeycomb Organics Jewelry & Piercing. Primarily working in brass, sterling silver and copper, Theo is inspired by the beauty of the southwest, and innovative in his overlay designs. He can usually be found crafting jewelry in his home studio, or working with his fellow Honeycomb Organics piercers at Black Rose Tattooers, right across the street from Pop Cycle!