News — holiday gifts
Posted by Shannon Riggs on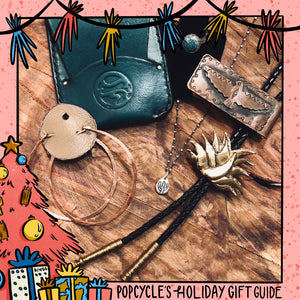 'Tis the season for giving, and our trusted team is here to help! We have created a multi-part gift guide to cover everyone in your realm, from self-care mavens to coworkers at a white elephant exchange. Shop online for select items, or in-store for everything! Plus, we always offer complimentary gift wrapping as a thank you for shopping local. Gifts for self care: prints and stickers by Marcy Ellis celebrate the feminine, herbal body soaks by Brxa for relaxation, luxurious lotion by Artemesia, illuminated tarot cards, pocket mirrors made from copper and reclaimed glass by DDco Design, prickly pear lip balm by...
Posted by Shannon Riggs on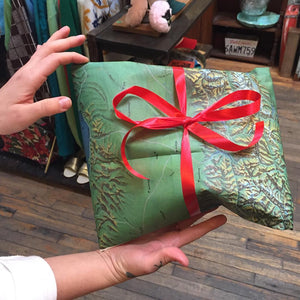 Seasons' Greetings, Pop Cycle friends! Looking for a special gift for the kids' teachers? A funky Secret Santa surprise? One-of-a-kind jewelry for your beloved? This year, we've compiled a list of some of our favorite gift ideas. These goodies are unique, durable, sustainable, and handmade by talented artists. Plus, we gift wrap for free using vintage maps, papers and ribbons. Read on and stop by the shop or our web store to complete your shopping list! $10 and underDDco Design wooden ornament, magnet, or glass & copper pocket mirror Annotated Audrey Art buttons and magnets License plate keyringBottle Rocket beer or soda glassesTiny...